Get Acquainted with the 2020 BMW X5 in Colorado Springs, and Find the SUV You've Been Dreaming About
When you choose the 2020 BMW X5, you don't have to sacrifice your love of performance and luxury to get a family-friendly SUV that can enhance your daily commute and transportation needs. At Winslow BMW of Colorado Springs, we're proud of our collection of X5 SUVs, and we want to help you get to know it better so you can make the right choice for your next high-end vehicle.
The BMW X5 underwent a major overhaul and redesign last year. The 2019 BMW X5 introduced us to the SUV's fourth generation, and it gave us more features, more technology, and more cargo room. Now, for 2020, the BMW X5 is back, and this year it's giving us more trim options.
The 2020 BMW X5
As with previous models, the new X5 can come in your pick of either two rows or three, and it comes in a range of three trim levels, each of which has standard all-wheel drive and is paired to its own unique powertrain. Choosing the BMW X5 is easy, and customizing it comes down to which one speaks to your personality. Options include:
The BMW X5 xDrive40i, the base model that's powered by a turbocharged 3.0-liter inline six-cylinder engine with 335 horsepower and 330 pound-feet of torque.
The BMW X5 xDrive50i, the second trim option, this model is powered by a turbocharged 4.4-liter V8 engine that offers a nice 456 horsepower and 479 pound-feet of torque.
The BMW X5 M50i, the latest trim option to join the lineup, this top-of-the-line model is powerful and responsive. It comes with a twin-turbocharged V8 engine that can get you from 0 to 60 mph in less than five seconds with 523 horsepower and 553 pound-feet of torque.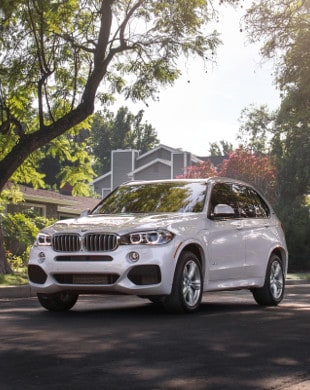 Meet the new BMW X5 in Colorado Springs
Explore the various BMW X5 options and what each one means for you by visiting us in person in Colorado Springs. Our sales team can show you the comprehensive list of features each X5 comes with and set you up with a test drive. Discover the BMW X5, and discover the SUV you were meant to drive.
---
Available BMW X5 Trim Levels
The BMW X5 offers two distinct trim levels. Unlike other BMW X Models, the BMW X5 comes standard with xDrive. This is a BMW all-wheel drive system. It delivers power to each of your wheels as needed to optimize your traction and road grip. This prevents wheel slippage and can help keep you on Colorado Springs roads during snow, rain or ice.
If you are a Pueblo or Monument driver and are interested in the BMW X5, check out our breakdown below. We review some of the most iconic features on each trim level of the X5 to give you a more informed car-buying process. After you review the trim levels, give our BMW dealership a call and let us know which one is your favorite!
BMW X5 xDrive40i
This is the standard trim level available for the BMW X5. It has a 3.0-liter BMW Twin Power Turbo 6-cylinder engine. This allows you to accelerate from zero to 60 miles per hour in only 5.3 seconds. To learn more about this BMW and its various features, check out our breakdown below!
19-Inch V-Spoke Wheels
Fineline Stripe Brown High-gloss Wood Trim
HiFi Sound System with 10 Speakers
Dynamic Cruise Control
Rain-Sensing Windshield Wipers with Adjustable Speed and Automatic Headlight Control
BMW X5 xDrive 50i
If you're looking for a BMW that stands out then look no further than this BMW X5. It has numerous performance and style upgrades that are sure to turn a few heads as you drive through the Woodland Park or Castle Park, CO area.
4.4-Liter BMW TwinPower Turbo V8 456-Horsepower Engine
Vernasca Leather Upholstery
Harman Kardon ® Surround Sound Audio System with 16 Speakers
8-speed Sport Automatic Transmission with Sport and Manual Shift Modes and Steering Wheel-Mounted Paddle Shifters and Launch Control
Chrome Exhaust Tips
Ready To Feel The Luxury For Yourself?
If so, then come to Winslow BMW of Colorado Springs and take one of our BMW X5 models for a test drive. Feel the power behind the wheel as you drive to Pueblo, test out its technological features, experience the comfort exuding from the high-quality materials, and get ready to take your new BMW X5 home, no matter if that's right here in Colorado Springs or further away in Woodland Park or Monument.
---
What are the Benefits of Leasing a New BMW X5 in Colorado Springs
Just like there are a lot of great reasons to choose the BMW X5 SAV, there are a lot of great reasons to choose a new BMW lease. Here's what you can do with a BMW luxury performance vehicle lease that you can't do with traditional car loans:
Get a Higher Trim Level, More Features, and More Money - Lease down payments and monthly payments are significantly lower than auto loan payments, meaning you can put that money back into your BMW X5 for more features or a higher trim level, enjoy some extra money, or spend it elsewhere. Financing a vehicle will tie up more of your cash in a monthly car payment.
Never Pay a Repair Bill - Since your BMW X5 lease is between one to three years, you never have to worry about expensive out-of-warranty repairs. Your BMW X5 will be covered under the factory warranties the whole time you have it, so you won't have to spend your time or money in the repair shop with a new BMW X5 lease.
Always Stay at the Top of Your Game - When you lease, you always have a new vehicle, so you always have the latest in BMW performance technology, the latest in safety systems, and the latest in luxuries and conveniences. Your BMW will always look sharp with modern styling as well. Never worry about outdated aesthetics, faded colors, or creased seats again.
Enjoy Exclusive Offers - You can enjoy exclusive incentives and offers on new BMW vehicles when you choose to lease that aren't available to BMW buyers who finance their vehicles with an auto loan. It's easy to do as well--simply use our online finance center to get started on your application. The process is fast, easy, and secure. And once you've completed your lease terms, it's just as easy to upgrade to your next BMW. Just come in and turn in your old lease for a stunning new BMW model in minutes.