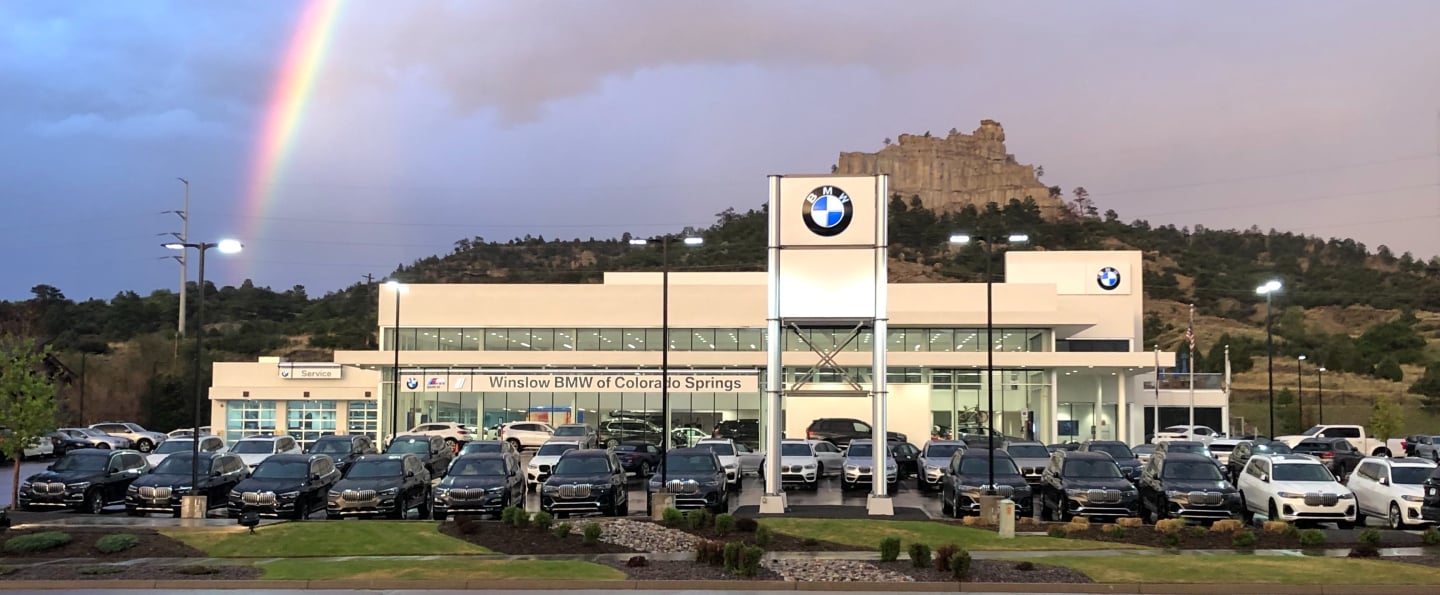 WINSLOW BMW MISSION STATEMENT.
Locally owned and operated, we are the premier luxury car dealership in the Pikes Peak region, building lifelong relationships with our customers, providing growth opportunities for our employees and investing in the success of our community.
---
Our customers selected Winslow BMW of Colorado Springs as the top customer service BMW dealer in sales and service in the entire state of Colorado. We invite you to find out why!
We welcome you to visit our family-owned, community-oriented dealership at 5845 North Nevada Avenue, so you can experience Winslow's winning combination of passion for our community, unparalleled BMW product knowledge and genuine care for each and every customer we do business with. We would be honored for you to become a member of our Winslow BMW family!
Whether you're looking to purchase or service a BMW in Southern Colorado, we are the premier location for superior, award-winning customer service and convenient access to I-25.
The staff at Winslow BMW of Colorado Springs is eager to competently answer your questions and make your visit to our auto dealership a relaxing, yet exciting experience.
---
FAMILY OWNED AND OPERATED SINCE 1961.
In 1961, the Winslow family purchased Colorado Springs Motors, Ltd. When Philip E. Winslow passed away in April 1964, his son, Philip A. Winslow, succeeded him as president of the dealership at age 24, with his mother, Clarice, as his business partner until her death in 1988, at which time Phil and his wife, Ann, became business partners. Today, Phil, Ann, and their managing partner, Gregg Randolph, share ownership of the company. Philip Winslow, Jr., and his wife, Anya, formed a corporation that owns the land and buildings on the new 40,000-square-foot facility at North Nevada Avenue.
Locally owned Winslow BMW of Colorado Springs has a long history of top-notch service, integrity and reliability. The products the company offers have changed over the years, but one thing remains the same - it's still owned by the Winslow family, having been passed down to succeeding generations.
---
WINSLOW IS ONE OF THE FIRST BMW FUTURE RETAIL CENTERS IN THE COUNTRY.
We are proud to be the first Future Retail Center in the country to be built from the ground up!
Earlier this decade, BMW transitioned the buying experience from negotiations to a relaxed, experiential-based Future Retail concept. This allows our salary-based, certified BMW Genius Client Advisors to guide you through the features and benefits of these vehicles without any sales pressure. In addition, the dealership itself is a beautiful, inviting, engaging place to be.
At Winslow BMW, everything you see and everything we do is designed specifically to enhance the pleasure of test driving, experiencing and owning your BMW.

---
AWARD-WINNING CUSTOMER SERVICE
Sales Department*

#1 BMW dealer in Colorado for customer service satisfaction.

#1 BMW dealer in the region for customer service satisfaction.

#1 BMW dealer in the nation for customer service satisfaction.




Service Department*

#1 BMW dealer in Colorado for customer service satisfaction.

#1 BMW dealer in the region for customer service satisfaction.

#2 BMW dealer in the nation for customer service satisfaction.

 




*BMW Dealership Rank by Premium Score Reported in Medallia, as of June 23, 2022.
AWARD-WINNING SERVICE DEPARTMENT.
When you bring your vehicle to Winslow BMW Service Department, you can be confident that our technicians are trained at the highest level in the nation for proficiency in diagnostics, electrical and drive train systems. We are proud to have Level 1 Master Service Technicians on site to work on your Ultimate Driving Machine.
---
DESIGNATED "M" BRAND AND "i" CERTIFIED DEALERSHIP.
We are proud to be a designated dealer for the i Brand-on the cutting edge of sustainable mobility. Our Client Advisors and Service Technicians have undergone specialized training and certification to be able to offer you the BMW i sub-brand and its groundbreaking concept for sustainable mobility and inspiring design.
For those of you who'd really like to own a race car, we are a certified M dealer. With reduced weight for optimum agility, Twin Turbo technology and all of the thrill of BMW engineering, every M delivers blistering power and responsive handling for track-level performance.

---
ACCREDITED BMW GENIUS PRODUCT SPECIALISTS.
BMW's new Genius program gives you three ways to take advantage of this personal service: in person, on the phone, or with an app.  During your in-store journey, a specially trained Winslow BMW Genius will guide you in a relaxed manner for the best experience possible, before, during and after your purchase.
For instance, when we first deliver your BMW, he or she will personally help you download the new BMW Genius App on your smartphone or tablet, connect your car to Bluetooth, set a destination with BMW navigation, or learn about your car's safety, connectivity and performance features.